Arwin!

Genre
Comedy
Created by
Danny Kallis
Main cast
Brian Stepanek
Chad Broskey
Samantha Droke
Country of origin
United States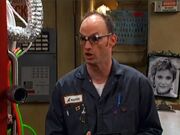 Arwin!
was a project by Danny Kallis to be the spin-off of the Disney Channel original sitcom
The Suite Life of Zack & Cody
. The project, however, was never picked up by the Disney Channel.
Selena Gomez
starred in the pilot episode as Alexa.
Plot
All is known is that Arwin Hochauser moves out of his mother's apartment. The plot was written by Danny Kallis.
Cast
Brian Stepanek as Arwin Hochauser
Chad Broskey as Luke
Samantha Droke as Summer
Selena Gomez as Alexa
Logan Grove as Jason
Teo Olivares as Damone
Yasmine Morphey as Tallulah
Jasmine Villegas as Lidia
Trivia
For the promo of Arwin!, click here.
For a video of Samantha Droke (Summer) and Selena (Alexa) in Arwin!, click here.
Samantha Droke later appeared alongside Selena in the Disney Channel movie Princess Protection Program.
Ad blocker interference detected!
Wikia is a free-to-use site that makes money from advertising. We have a modified experience for viewers using ad blockers

Wikia is not accessible if you've made further modifications. Remove the custom ad blocker rule(s) and the page will load as expected.