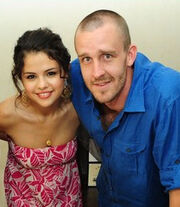 Brian Teefey

Information
Status with Selena

Stepdad
Brian Teefey is Selena's stepdad & Mandy's husband, ever since 2006. Together, they have a daughter named Gracie, who was born on June 12, 2013.
Trivia
It was reported on August 22, 2012, that Selena took a break with her busy schedule to spend some time with Brian, showing that she loves him very much.[1]
Selena says that Brian is a fan of Eminem, since he is listening a lot to their music.[2]
Gallery
References
Ad blocker interference detected!
Wikia is a free-to-use site that makes money from advertising. We have a modified experience for viewers using ad blockers

Wikia is not accessible if you've made further modifications. Remove the custom ad blocker rule(s) and the page will load as expected.