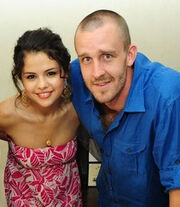 Brian Teefey is Selena Gomez's stepfather. He is the husband of Mandy Teefey. He married Mandy in 2006, and together they have a daughter, Gracie Elliott Teefey, who was born on June 12, 2013.
Trivia
It was reported on August 22, 2012, that Selena took a break with her busy schedule to spend some time with Brian, showing that she loves him very much.[1]
Selena says that Brian is a fan of Eminem, since he is listening a lot to their music.[2]
Gallery
References