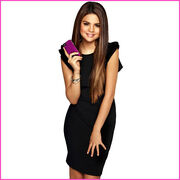 Case-Mate is a privately held company founded in 2006 in Atlanta, Georgia by Shashi Reddy. The company designs and manufactures fashion-forward mobile accessories for a variety of smartphones, readers and tablets - including Apple, Amazon, BlackBerry, Samsung, HTC, Google, Windows, Nokia, Motorola, LG and Sony Ericsson. Case-Mate products are sold in 80 countries around the world. The company is also an official partner of the BlackBerry Alliance Program.
It was announced on July 30, 2012, that Selena Gomez would partner with Case-Mate as part of its upcoming "Right Case, Right Occasion" marketing campaign. She will be teaming up with Fergie and Common to create fashionable custom phone cases for a good cause.
Trivia
Selena posted a picture on her Twitter on March 24, 2013 with her Case-Mate cases. She says that she couldn't decide on what Case-Mate case to bring to the 2013 Kids' Choice Awards.
Ad blocker interference detected!
Wikia is a free-to-use site that makes money from advertising. We have a modified experience for viewers using ad blockers

Wikia is not accessible if you've made further modifications. Remove the custom ad blocker rule(s) and the page will load as expected.