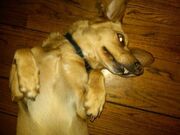 Chazz is a "mysterious" Puerto Rican breed dog owned by Selena Gomez.
She was in Puerto Rico shooting the Wizards of Waverly Place movie, when she came upon Chazz, sitting alone in a field at one of the film's remote locations.
"He became the set dog for two weeks while we finished the movie," Gomez says. "We had to sneak him in and out of the hotel three to four times a day to go to the bathroom."