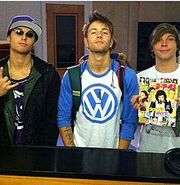 Emblem3 is an American reggae pop band from Sequim, Washington, consisting of brothers Wesley and Keaton Stromberg, and Drew Chadwick. In 2013, they signed with Simon Cowell's record label Syco Records and Columbia Records after finishing fourth on the second season of The X Factor USA.They have since been dropped from their record label.
Their first single, "Chloe (You're the One I Want)," was released on April 15, 2013, and their debut album, entitled Nothing to Lose, was released on July 30, 2013.
Due to Chadwick's different musical visions he left Emblem3 in June 2014. A year later, both Keaton and Wesley started separate musical projects, leaving Emblem3's future uncertain. In September 2015, Emblem3 appeared at The Janoskians movie premiere, causing speculation that the three had reunited. Their reconciliation was later confirmed by the band on Twitter. On November 3, 2015, Emblem3 made a private announcement to fans who had signed up to their website, revealing they were working on a new album to be released in 2016, with a tour to follow. On February 1st, 2016 Emblem3 released their first single titled "Now" since getting back together. On February 14, 2016 the band released the name and dates for its new tour.
The band members are great friends with Selena Gomez, and they opened for Selena on her North American leg of her 2013 tour, Stars Dance.
Wesley Stromberg, a member of the group, says, "[Selena and I] are totally good friends. We hang out and text, and we went to Disneyland. It's literally about to be the best time of our lives."
Ad blocker interference detected!
Wikia is a free-to-use site that makes money from advertising. We have a modified experience for viewers using ad blockers

Wikia is not accessible if you've made further modifications. Remove the custom ad blocker rule(s) and the page will load as expected.