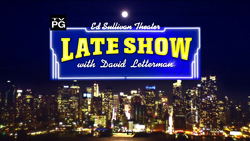 Late Show with David Letterman is an American late-night talk show hosted by David Letterman on CBS. Selena Gomez has made several appearances on the show, having been interviewed and having performed her singles.
Appearances
Appearances made by Selena Gomez on the show are listed below:
July 20, 2010; Interview
March 16, 2011; Interview
March 18, 2013; Interview
April 17, 2013; Performance of "Come & Get It"
October 17, 2013; Performance of "Slow Down"
Videos
External Links
Ad blocker interference detected!
Wikia is a free-to-use site that makes money from advertising. We have a modified experience for viewers using ad blockers

Wikia is not accessible if you've made further modifications. Remove the custom ad blocker rule(s) and the page will load as expected.