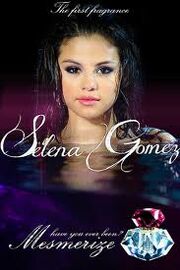 Mesmerize is Selena Gomez's debut fragrance. It is available through the USA store, Macy. It debuted in May 2012.
It was announced on July 14, 2011 that Selena Gomez had signed a license agreement with Adrenalina to develop, manufacture, and distribute the actress' fragrance. Chairman and C.E.O. of Adrenalina, Ilia Lekach, said, "We are incredibly enthused to be working with Ms. Gomez and will reveal more details pertaining to the fragrance as we get closer to the launch date."
Fans could log on to SelenaGomezPerfumes.com and could vote for the ingredients that they wanted to put on the perfume.
On the perfume, Selena says: "I am excited to make my own fragrance that is romantic, rich and sweet. I want to make a fragrance that is able to make my fans special."