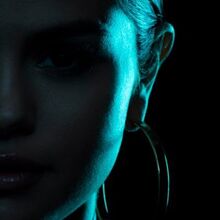 The untitled upcoming third solo album by Selena Gomez is set to be released sometime in 2017. The album is the follow up to "Revival" released in 2015. Gomez has been working with producer Ross Golan, who is behind songs like "Same Old Love" or most recently on Ariana Grande's "Dangerous Woman", Albin Nedler, Rami Yacoub, Leland, Julia Michaels, Justin Tranter and BloodPop. Selena also most recently appeared on Cashmere Cat's newest single "Trust Nobody" along with Tory Lanez. She also has been working in the studio recently with hitmaker, Justin Tranter and "Issues" singer and songwriter Julia Michaels.
Confirmed/Registered/Rumored Tracks:
Feel Me - Selena Gomez
It Ain't Me - Kygo & Selena Gomez
Trust Nobody - Cashmere Cat, Selena Gomez, & Tory Lanez
Kinda Crazy - Selena Gomez
That's Why I Love You - Selena Gomez
For What It's Worth - Selena Gomez & The Cardigans
Ad blocker interference detected!
Wikia is a free-to-use site that makes money from advertising. We have a modified experience for viewers using ad blockers

Wikia is not accessible if you've made further modifications. Remove the custom ad blocker rule(s) and the page will load as expected.