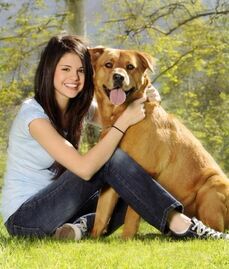 Willie is a dog that Selena Gomez owns. He is five years old. Selena rescued him when he was one year old in the backyard in her neighbors' house. He was left behind when her neighbor moved.
When he got loose, Gomez's stepfather Brian Teefey took him to a nearby shelter. "They called 10 days later and said they were going to euthanize him," Gomez says, "so we took him home." He is the biggest of all five dogs, and keeps to himself, but Gomez says Willie, now 5, is "the most gentle and lovable."
Ad blocker interference detected!
Wikia is a free-to-use site that makes money from advertising. We have a modified experience for viewers using ad blockers

Wikia is not accessible if you've made further modifications. Remove the custom ad blocker rule(s) and the page will load as expected.